Case Study: Glassons Australia
Reading Time: 3 min
Glassons is a women's fashion retailer, founded in New Zealand, listed on the NZX, with a retail bricks & mortar footprint that spans across Australia and New Zealand.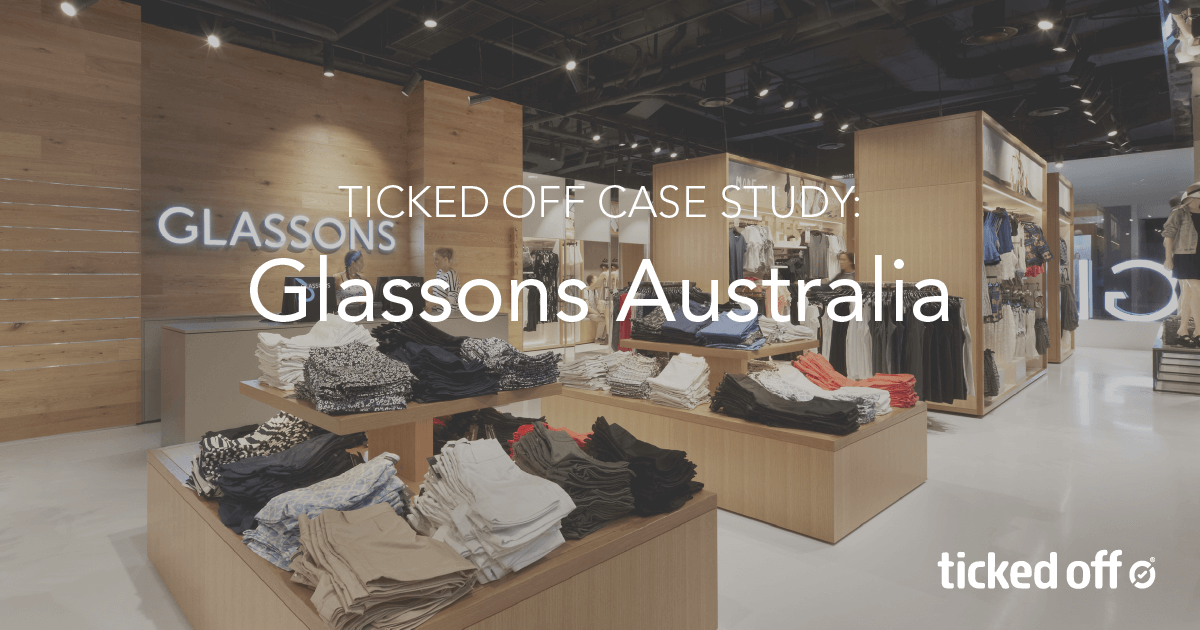 The Glassons is a women's fashion retailer, founded in New Zealand, listed on the NZX, with a retail bricks & mortar footprint that spans across Australia and New Zealand.
Challenges
Glassons is an iconic women's fashion retailer that strives to deliver the latest trends paired with great customer experience. In 2015 the company re-branded, re-positioned, and doubled down in their efforts to empower their team to provide an industry-leading customer experience. The result was an iconic store design, a wider range of product and a boost in sales due in part to a sales team that was focused on doing what they do best not distracted by admin tasks.
Empowering the team to be focused on customer satisfaction.
Using data to make better decisions that impact store costs and customer experience.
Identify & deliver solutions that make improve team and store performance.
Reducing the time to complete maintenance admin tasks.
The golden rule
As a business founded and led by a family, Glassons understand and value the importance of developing their people in order to focus on the needs of the customer. Uniquely, Glassons provide their field teams with an unmatched level of autonomy and control to ensure any 'directives' from Head Office do not have a negative impact on the customer experience.
Fit for purpose
Fast fashion is about speed and giving people what they want, when they want it, at the price they are happy to pay. It was on these same principles that Glassons first partnered with Ticked Off, allowing each business to focus on what they do best.
Previously, Glassons field teams were expected to organise their own repairs, find their own contractors, and manage scheduling works. It came at a cost of time, a very limited resource for already busy teams. It impacted sales and took attention away from what is important – the customer. The Ticked Off solution was one that Glassons were able to tailor to suit specific business requirements, with the comfort of knowing that at any time, there was someone they could call, 24 hours a day.
If the shoe fits
The key advantage for Glassons in engaging Ticked Off was they were able to enjoy the benefits of a one-stop-shop and a single monthly maintenance invoice, without being locked into contracts or using multiple processes and systems dictated by their suppliers. Glassons took back full control of their repairs and maintenance program with full transparency to see work orders and requests completed in real-time, from the Ticked Off app on their phone.
On top of having their entire repairs & maintenance program now managed through one simple app, Glassons benefited from a monthly report that brings meaning to the data and advice on new ways to save time and money based on spend. Trends can be tracked, costly repairs can be avoided through better store builds and asset performance can be tracked to make informed decisions about who should be engaged in the future. Uniquely, Glassons are able to see how their spend compares the average of all other retailers on Ticked Off to help guide their decision making.
Since using Ticked Off, we have been able to streamline our store maintenance system, reduce workload for our Retail Management Teams, speed up the process of repairs, and control our maintenance costs. In a market where we need to be putting our best foot forward in our store presentation, Ticked Off is a valuable tool.
Solution at a glance
For Glassons, Ticked Off provide a single Managed Services solution that covered all reactive and programmed maintenance. Field teams can now log, review, approve, and track jobs from their phone with live app and email notifications.
Simple to use platform the entire business could use for requesting and tracking jobs.
A new, end-to-end process to manage control, visibility, and accountability of work.
One single monthly invoice for all things repairs and maintenance
Robust reporting to give all stakeholders the information they needed to have conversations based on facts.
24/7/365 support service.
Results
33% reduction in costs year on year
Increased speed to attend job from 5+ day average, to <2 days
Returned 2500+ labour man hours back to sales functions